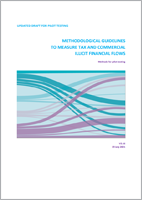 [DRAFT]
These methodological guidelines provide a selection of methods for the pilot testing of the measurement of tax and commercial IFFs in member states participating in the United Nations Development Account projects in the African, and Asian and Pacific regions, and Task Force member countries.
The purpose of pilot testing will be to test the feasibility, validity and robustness of the suggested methods. The guidelines are intended for statistical and other national authorities with a mandate to collect and access relevant information and apply the suggested methods, to the maximum extent possible, to enable more reliable and comparable results across countries.
The aim is to roll out country pilots beginning in the second quarter of 2021. These methodological guidelines will be a living document open to adjustment and refinement during and after the pilot testing phases, taking on board the experiences gained by United Nations member states on the choice of methods, their application and related practical guidelines.
The following is a playlist in English, French, Portuguese and Russian, on the six statistical methods to measure tax and commercial IFFs suggested for pilot testing in the Methodological Guidelines.
The guidelines, once refined after the pilot phase, are planned to be added to the Statistical Framework for the Measurement of IFFs, together with guidelines and materials on the measurement of IFFs from illegal markets, corruption and exploitation-type activities, being developed by UNODC.